The beauty of all things unconventional.
A relaxing, calm space to take a break away from daily stresses and technology and enjoy life's pleasures for a moment.
Skilled creative artists dedicated to creating a hair journey that tailors to your lifestyle and any budget while you simply enjoy a relaxing moment in our creative space. We take a meticulous and real approach to consultation to ensure your needs are heard and create a relaxing and comfortable experience for you.
We proudly choose to only use brands that are 100% cruelty free and sustainable. Helping you to focus on taking some time to relax from busy daily life to care for inner and outer beauty while caring for the environment.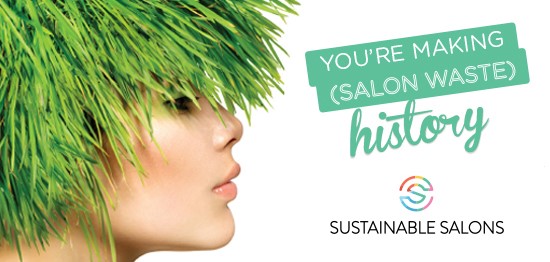 PROUD MEMBER OF SUSTAINABLE SALONS
Sustainable Salons is the first comprehensive resource recovery program designed for the salon environment. This Revolutionary resource recovery program is designed for the salon to achieve zero waste, reduce our carbon footprint, and implement sustainable work practices that benefit the local community.
All aluminium, foil, colour tubes, cardboard, paper, magazines, razor blades, unwanted tools and select disposables are sold for recycling, and the proceeds are donated to OzHarvest and KiwiHarvest to provide meals for hungry people. A full head of foils provides a quarter of a meal to someone in need!
Hair clippings are collected from the salon floor and stuffed into stockings to make Hair Booms that can one day help clean up oil spills along our coastlines! Hair is also re-purposed in local community gardens for composting or used in sustainable art installations to educate the community.
All collected ponytails 20 cm or longer are distributed to charitable organisations to create wigs for those suffering from cancer or alopecia. Sustainable Salons is the largest donor of ponytails in the Southern Hemisphere!
By collecting small amounts from a large salon network, Sustainable Salons is the first company to recycle excess chemicals in the salon industry. These are pooled and sent to chemical recycling plants where they're neutralised and turned into recycled water used in roadworks and construction.
Select disposable hygiene products used during treatments are pulled apart and the materials are sent for re-purposing.