"Unconventional approach to Wellness"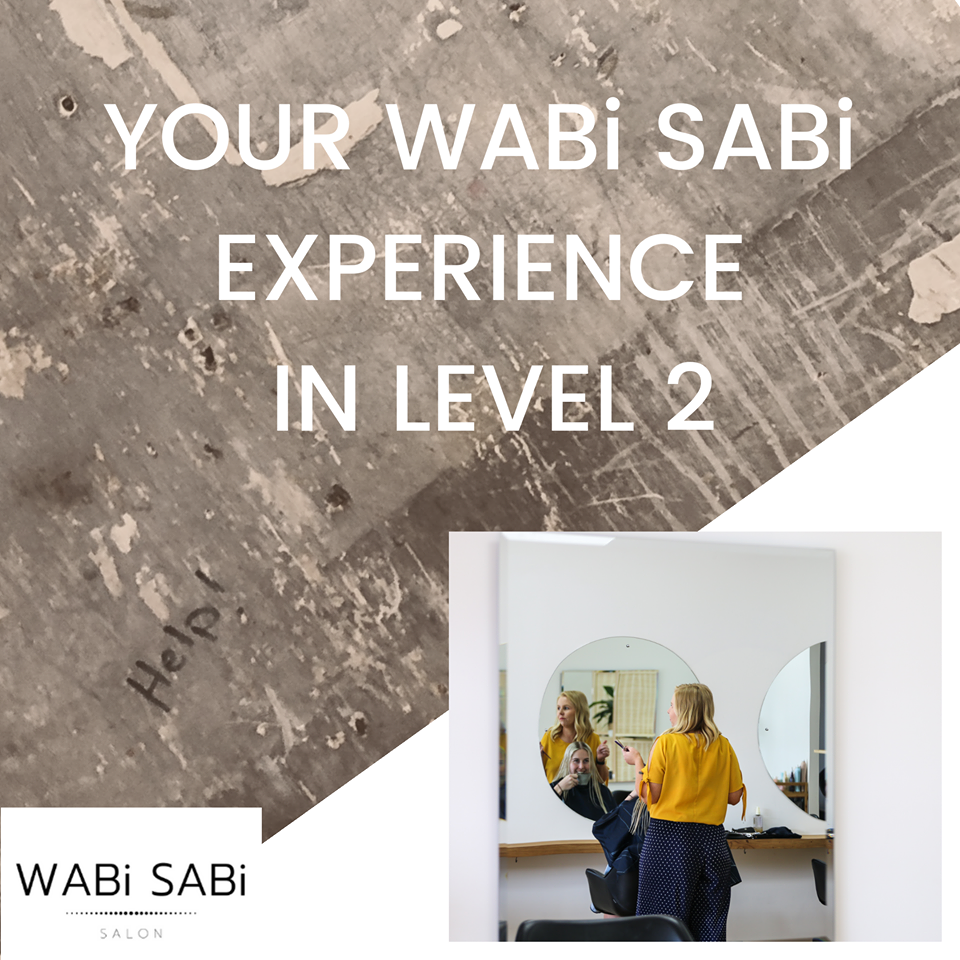 KEVIN MURPHY, SUSTAINABLE hair salon based on Aucklands North shore, Northcote, Birkenhead! Qualified tribe of professional hairdressers.

WABi SABi SAFETY CARE PLAN
HERE'S HOW WE WILL TAKE CARE OF YOU AND OUR COMMUNITY AND HOW YOU CAN HELP US WITH THAT!
We cant wait to welcome you back in with a toe tap and smiles all round. We are doing all we can to make our haven a safe space for everyone! Please allow extra time at your appointment and we ask to not give us a time pressure to have you out by in this time. All the procedures take longer and we want to do things right for you.

ARRIVAL OF APPOINTMENT
– Please arrive on time, not early or late, please wait at the door to be let in.

SANITIZATION
– We will have sanitizer and cleaning facilities that must be used on entry. Compostable gloves are also available for you. -Stylists will be washing hands between every client as usual.
-All surfaces cleaned before and between every client as usual.
-Clean capes and towels as usual.
-Masks can be worn by the team and guests on request and where necessary if this makes you feel more comfortable. Please just let us know. We can provide you one if you would like one also. We are following Covid-19 MOH guidelines which state the following- Hairdressers and similar workers, are not required to wear personal protective equipment (PPE) like masks. We expect however, that many workers and customers may want to workers to wear a mask.

SOCIAL DISTANCING
-Our small growing team will have you all spread out in our big space following guidelines. Please be respectful of others! -Contact less payment options will be available.
NON NEGOTIABLE'S
-Please reschedule if you're unwell at all, been in contact with anyone unwell or travelled and the obvious near those with covid-19. Our team will do the same.
-We aren't using our cancellation policy as we understand this is a tricky time, however no shows will be charged a fee of 50% so please give us as much notice as you can.
-Please follow all procedures in our salon and be understanding of the team and changes we make as we work our way through this.
-Please show up if you made a booking. We need every space filled to stay open and the wait list shows we have a demand to fill spaces.
-Please come alone to your booking.
-All contact details must be given prior to entry to our safe haven.

THE GOOD BITS
-You are welcome to bring your own reading material as ours will be unavailable for now. WiFi is always available however we encourage you to pause and enjoy the moment of mindfulness as always!
-Sadly our beverage and snacks menu will be unavailable however you are welcome to bring your own water bottle. Sorry no snacks either. This complimentary service may change and become available as guidelines change.

PRICING
Please expect a possible small increase in price as unfortunately our costs have changed and extra product may be needed for your longer than usual roots.

Thanks for the support and understanding, we know its a lot to take in! Other then all that, please expect lots of pampering and ENJOY THE MOMENT!

Love always, we cant wait to pamper you, The WABi SABi Tribe xx